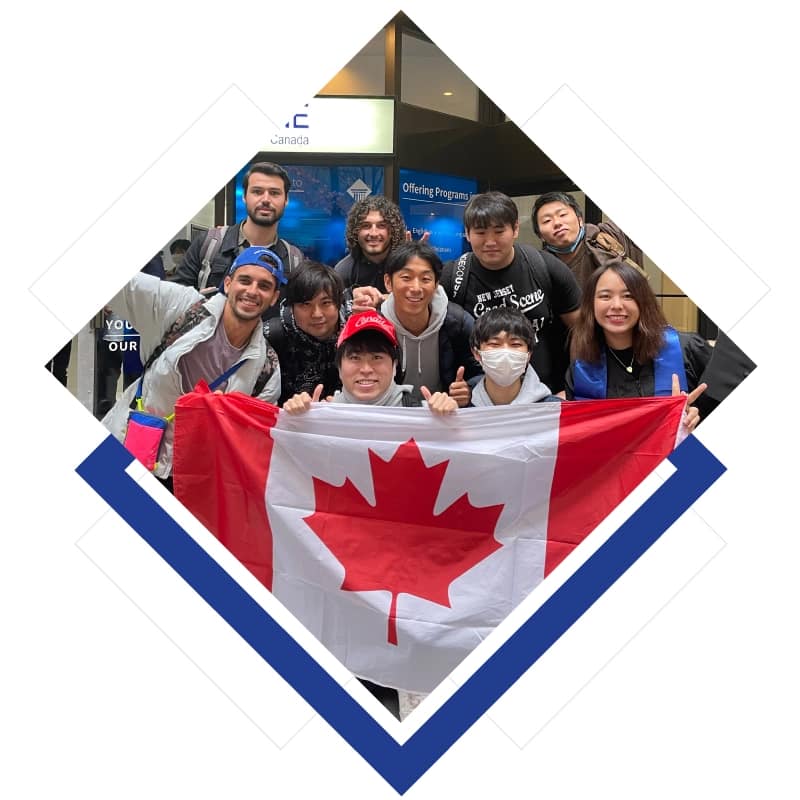 Cornerstone International Community College of Canada
Online and in-class learning
In-class and online education opportunities in classrooms equipped with the latest technology.
Tailored Diploma Programs
Specialized program curriculums have been approved by industry professionals and powered with hands-on learning experience.
Guaranteed Job Support
Personalized training is powered by professional recruiting services and a unique hiring platform for CICCC's students.
Study Diploma Programs in Canada
Accreditated tech and management diploma programs by the Government of Canada that give a chance to study and work in Vancouver facilitate international students for them to build a career in Canada. Cornerstone College can also provide training and work experience to international students in Canada who need to prepare for new jobs or advance in their careers in Canada.  Our dedicated co-op team assists all our students in diploma programs for their career training.
Cornerstone College brings the best multicultural culture in Vancouver and is the bridge between our students' academic and professional success. Students in Vancouver are exposed to relevant academic content while being prepared to fully integrate into professional Canadian workforces.
Learn how to design and evaluate a product from a usability
Network and System Solutions Specialist
Focus on learning the skills needed for IT infrastructure
Digital Marketing Specialist
Practice every core functional area of digital marketing
Web and Mobile App Development
Study programming languages for web and mobile apps
Management Diploma Programs
Customer Relations Specialist
Get the skills needed in a variety of corporate and retail environments
Learn all aspects of the tourism and hospitality industry
International Business Management
Master your entrepreneurial skill for the current market demands
Study English Courses in Canada
Cornerstone hosts students from over 72 different countries every year. Our personalized and dynamic English courses in Vancouver are delivered by qualified ESL teachers with many years of experience helping students achieve their English language objectives in Canada.
Social activities in Vancouver that our college organizes for its international students also support them to improve their reading, writing, and most importantly speaking skills.
English As Second Language Program – Full Time
English As Second Language Program – Part Time
"I took English lessons first and now I am a Hospitality Management student. After more than a year at Cornerstone I can say that my favorite thing is that our opinion matters."

Canadian Experience Program

"I am studying Hospitality Management and I love how diverse this college is, you learn a lot from your colleagues! I am also very thankful for such caring staff. Thank you!"

Hospitality Management Diploma Program

"My favorite things about studying at Cornerstone are that the instructors are very approachable, you get instant feedback, and classes are very practical."

Web and Mobile App Development Diploma Program

"I am making my dream come true, studying a subject that I'm passionate about. I particularly enjoy the small class. The instructors are always available whenever I need them. There are great facilities and I love living in Vancouver!"

IT Manager

"The international business management diploma program allowed me to learn a wide range of activities and strategies around the business market scope. Now I have a solid grounding in understanding both local and international markets. I'm ready to join the market and start working on my own business!

International Business Management Student

"I was inspired to take a chance and decided to register with the International Business Management Diploma at CICCC. Today, I can proudly tell that within three months the diploma has matched my expectation. I never experienced being in classes where you have total freedom of speech, a right to express opinions, and a high optimism about potential future success.

International Business Management Student

The International Business Management program has been an enriching experience; each month has presented new challenges and opportunities for developing my analytical skills. We work with impactful case studies and group projects and are introduced to Canadian culture in a business context.

International Business Management